BRAMPTON – Developers are looking to redevelop seemingly every mall in the GTA and it looks like all eyes are now on Brampton's Bramalea City Centre.
Morgaurd, owners of the shopping centre, wants to turn part of the mall into apartment buildings! Outline in a project proposal is the demolition of the section of the mall with the old Sears building. Then, four rental buildings will be built in its place, as well as a commercial building, and an urban plaza. The apartment buildings will have 1,00 units in total and the new development will also feature approximately 650 square metres of commercial space.
The proposal also includes a two-storey underground parking garage with 360 parking spaces, in addition to the mall's existing parking garage.
According to a press release, the Bramalea City Centre property area is 33.2 ha while the proposed development area is approximately 1.4 ha. It's expected this will be the first phase in a long-term redevelopment of Bramalea City Centre.
People React to Bramalea Proposal
Online, people are voicing their thoughts on the newly proposed redevelopment project. Many of them are confused, and even a little blindsided by the news. 
"This doesn't make sense lol, the mall needed a full upgrade OR add another huge indoor mall in Brampton," wrote one person on Instagram.
"So you can walk from condo to attached mall? Is there nowhere else these uneccessary condos can go," wrote another.
While other people are happy that the city is considering multi-purpose zoning projects, which refers to when developments have more than one authorized use. For instance, building a home above a pub, as is often done in Europe.
"So they realized multi-purpose zoning is good," wrote one viewer.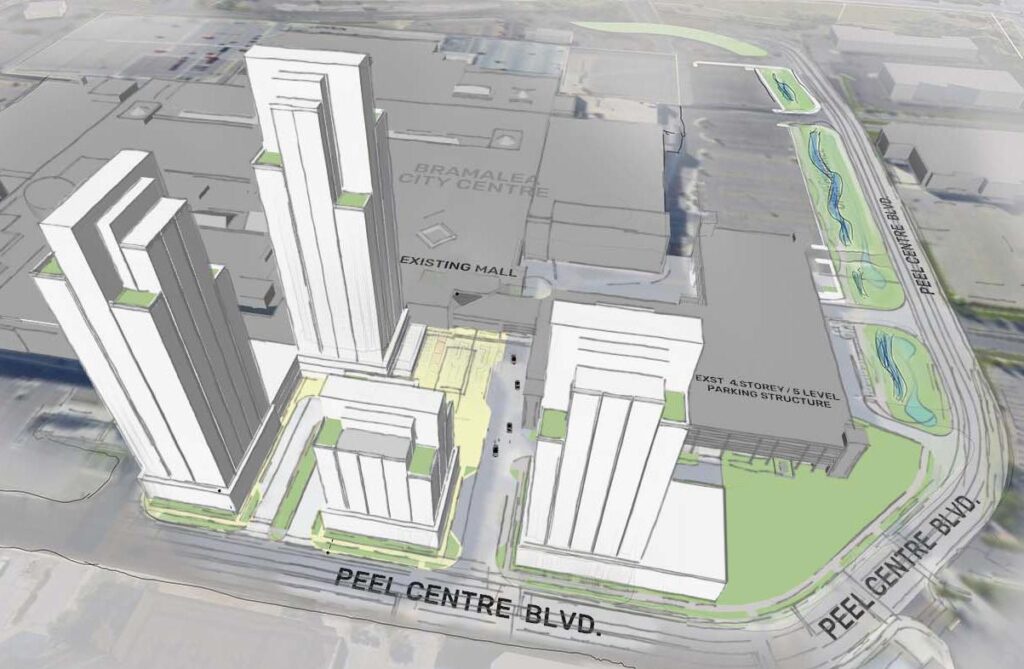 Meantime, despite the plans for a new parking lot, others are concerned about the influx in people and vehicles the redevelopment could draw to the area.
"Yes we need this tons more people and their vehicles there especially when queen, Dixie, Bramalea Rd will stay the same amount of lanes for like forever, and hwy 410 and its access points is just totally empty," someone shared.
And as always, some people are just completely unimpressed. 
"But it's not like Brampton would be unique in redeveloping strip malls," wrote a contributor to an Urban Toronto forum about the possible redevelopment of Bramalea.