TORONTO – The best of Black Canadian talent turned out and turned up this weekend at the inaugural Legacy Awards hosted by Scarborough brothers Stephan James and Shamier Anderson of The Black Academy. The show saw breathtaking performances from artists like Jully Black and Fefe Dobson; awards handed out to stars like sports broadcaster Kayla Grey and sprinter Andre De Grasse; Black stars gracing the Black carpet, and a celebration of Black excellence like our city has never seen before. 
"This whole idea began when Shamier and I would go to all of these award shows and see little to no people of colour. So we decided that things need to change," shared Stephan James.
Andre De Grasse – Athlete of the Year Award
Medalling worldwide and bringing a sense of Canadian pride to the track, Andre De Grasse received the Athlete of the Year Award for his athletic accomplishments, humanitarian work, and philanthropy.
Thanking God, his mother, family, friends, and management, De Grasse graced the stage to share how much receiving this award meant to him as a young man from Scarborough.
"I know how much it means to represent our community and to inspire and empower the next generation," he shared. 
Fabienne Colas  – Visionnaire Award
For her work showcasing Black Canadian storytellers, philanthropist, visionary film festival creator and actress Fabienne Colas received the Visionnaire Award. When she graced the stage to accept her award she shared some touching sentiments.
"Cinema and television is the mirror of our society, and they should reflect society's demographic reality," Colas said during her acceptance speech.
But she posed an important point about the night's celebrations.
"Imagine a photo is being taken with all of us right here, right now. At this very moment, someone takes a photo of the room, okay? And we're all there. Good news, this photo will be on national television," she said. 
"But there's a problem, one problem. You are not in the photo when it's on TV. And you're like 'wait a minute, but I was there when the photo was being taken. I was there, I swear!" Well, that is exactly what's happening everywhere in Canada, every day to part of the population," she continued, adding that mass inclusion can help.
"We can change that by doing massive inclusion. By supporting Black-led and BIPOC organizations, festivals, production companies who are working to make a difference," Colas added.
She went on to say that it needs to be clear that inclusion is important both in front of and behind the camera because the people behind the scenes have a huge impact on the stories that are told and how they are told, as well as the cast in front of the camera. 
Kayla Grey – Jahmil French Award
Canadian sports anchor, influencer, and trailblazer Kayla Grey received the Jahmil French Award, created to honour a rising star.
"Shamier, Stephan, guys look at this room! Look at our beauty, our strength, what resides within these four walls! And if that energy could talk, what would it say?!" asked Grey.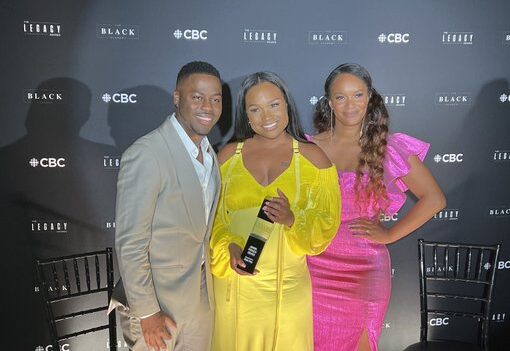 "How we move individually, collectively, which leads me to ask, what the heck are they so afraid of?" Grey continued.
"But I'm so grateful for spaces and nights like this one tonight because we are reminded of who we do it for but more importantly why we do what we do. Love," she shared through tears. 
Grey went on to share the importance of showing up and creating spaces for others to share their stories and experiences, something she has strived to do throughout her career. 
"Guys, our stories are the gifts, they are the blueprint," Grey shared.
The Very First Legacy Awards
Performers of the night included Ontario Poet Laureate Randell Adjei, Fefe Dobson, Deborah Cox, and Savannah Ré. You know the team was on the Black carpet, and our very own Brandon Gonez was one of the award presenters for the evening!
Tune in later tonight to see some highlights from the Black Academy's 2022 Legacy Awards on The Brandon Gonez Show, and check back later this week to read more about the winner of the Legacy Awards' Digital Creator Fan Choice Award, Ika Wong.