OAKVILLE – A teacher in Oakville, Ontario has stirred up some controversy online after a video surfaced of them wearing what appears to be a large set of prosthetic breasts while teaching. In the video, the educator can be seen walking around what appears to be a wood shop and operating a table saw.
The Oakville teacher reportedly identifies as transgender, and many argue that they are entitled to the freedom of gender expression and should be allowed to present themselves however they feel best. Discrimination and harassment because of gender identity or gender expression is against the law in the province under the Ontario Human Rights Code.
The Internet is Divided
Some people shared that they don't have an issue with the prosthetics themselves, but wish the teacher had dressed more modestly.
"I can hear her back crying in pain. But seriously she should be allowed to wear it but cover the nipples," commented one person on Twitter.
While another person pointed out that there are ethical issues with dictating how a woman chooses to present herself.
"If someone is outraged at the size of the implants then they're not transphobic, but they are misogynistic for policing a women, cis or trans, for getting large implants. If someone brings up them being trans, which should be completely irrelevant in this specific situation, into the conversation, then yes, that is transphobic. Simple," reads one Instagram comment.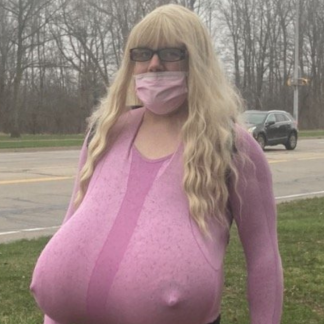 Meantime, some people who have identified themselves as allies of the LGBTQ+ community believe this teacher is doing too much. Many have voiced the opinion that these breasts are less about gender expression, and more like a mockery of the female body.
"There's nothing wrong with being trans but dressing up like a clown show when you work in a school is another thing. I don't wear club clothes to the office. Time and place is a concept people seem to have lost," said one viewer on Youtube.
"The photo in this story seems to indicate that this person is a shop teacher, using [a] saw, etc in the classroom. To have dangling appendages this size is a safety hazard. Any woman with breasts this size knows to wear a well-structured, supportive bra. In my opinion this is attention grabbing and it has worked pretty successfully," wrote another.
"I think people are more outraged by the enormous size and not so much about the teacher being trans," added someone else.
Halton District School Board Responds
The Brandon Gonez Show reached out to the Halton District School Board to enquire about the situation. Here is how they responded.
"The Halton District School Board is committed to establishing and maintaining a safe, caring, inclusive, equitable and welcoming learning and working environment for all students and staff," the statement reads.
"We strive to promote and support a positive learning environment in schools consistent with our values and to ensure a safe and inclusive environment for all students, staff and the community, regardless of their race, age, ability, sex, gender identity, gender expression, sexual orientation, ethnicity, religion, cultural observance, socio-economic circumstances, or body type/size," the board continued.
"The HDSB recognizes the rights of students, staff, parents/guardians and community members to equitable treatment without discrimination based upon gender identity and gender expression. Gender identity and gender expression are protected grounds under the Ontario Human Rights Code," the board shared, adding that as this situation is a personal matter they cannot provide any other information.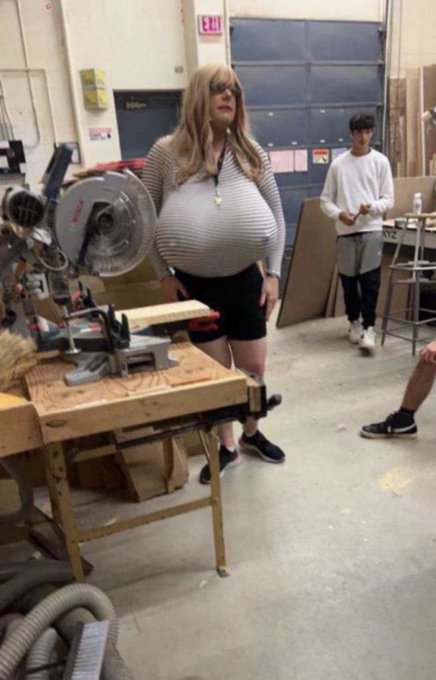 People Point Out the Complexity of the Story
Many people online have commented on the complexity of this story, with some pointing out that it is hard to police other people's appearances and expressions.
"Someone would have to decide the appropriate size, which is arbitrary. Like, what is the actual size to draw a line on. Is it body proportional? All crazy making," pointed out a viewer named Eric.
"To be fair the way this teacher is dressed is moderate. Nothing I can see what have the school stop anyone from wearing it clothing wise. Now the question we need to ask is where is the line here and if some people, mainly children, are uncomfortable by a teacher (a person of authority) in any way then I think we need to be having a much larger discussion on boundaries," added another.
While others have pointed out the negative impact that this situation could have on the transgender community as a whole.
"I think more than ever we need to respect bodily autonomy…but I also question this person's intentions in doing this….is it really to feel their truest & best self? Or is there some other attention seeking intention? It also makes the ignorant ppl even less open to trans understanding (n it isn't this teachers job to make them not ignorant, but it don't help the cause…" wrote a viewer on Instagram.
"This is so harmful to the Trans community and this person should really piss off. It's not a joke for people who are transitioning especially when it comes to the serious amount of Transphobia in education," added another.
Brandon unpacked the layers of this story, highlighted some of the various conversations online, and shared his opinion on this episode of The Brandon Gonez Show. Keep your commentary respectful but let us know, how do you feel about this?