CANADA – As the cost of living goes up, more Canadians are willing to take a hit on their credit scores to relieve financial stress. A Tuesday report by credit bureau Equifax Canada shows an increase of Canadians putting small and large purchases on their credit cards to alleviate some immediate financial pressure. Now, the practice is driving Canadians into debt as balances begin to outpace the ability to pay the credit off.
"The cost of living has been increasing across Canada and indeed globally with rising inflation being seen across essentials like housing and energy as well as many other goods and services," Rebecca Oakes, Vice-President of Advanced Analytics at Equifax Canada said in a release on Tuesday.
Breaking Down the Numbers
Overall, the report found that total consumer debt increased to $2.32 trillion. That's an increase of 8.2% compared to the same time last year.
Breaking it down province by province, Equifax found Ontario to have the biggest increase in credit card spending, followed by Quebec when compared to the same time last year.
The demand for new credit cards is up as well, increasing quarter over quarter with a 16.2% increase from last quarter. While lenders are providing higher credit limits on those new cards, with the average credit limit on new cards this quarter reaching over $5,800, the highest it has been in the past seven years.
What is the Average Consumer Debt?
Not including mortgages, on an individual basis, Equifax found that the average consumer debt now sits at about $21,128. This is an increase of 2.4% when compared to the second quarter of 2021.
Looking at some major Canadian cities in the first quarter of 2022, the average person in Calgary had about $24,912 in debt. Meantime in Toronto, the average person owes about $20,361, while the average debt in Vancouver is about $22,760. 
No Surprise Here!
Online, Canadians are sharing that this news is less than shocking.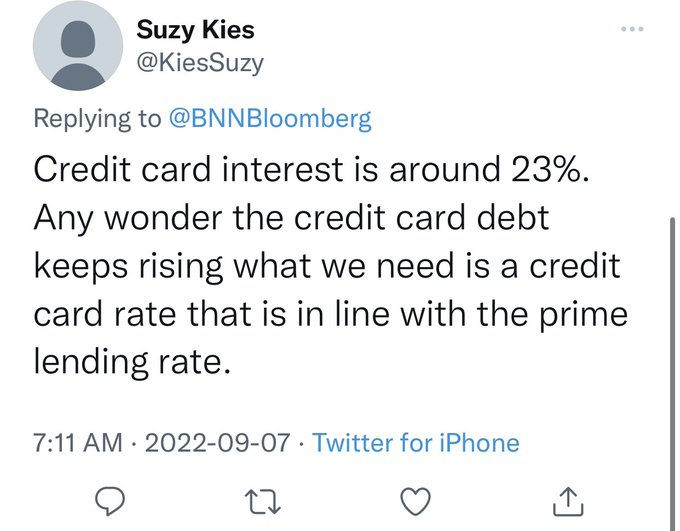 "Credit card interest is around 23%. Any wonder the credit card debt keeps rising what we need is a credit card rate that is in line with the prime lending rate," said one person on Twitter.
"Lol, how is this news? We're all living it… If the system is designed to ensure you can never get ahead, might as well ring up a shitload of unsecured debt to live comfortable before you die," said another person on Instagram.