TORONTO – According to the Canadian government, every year tens of thousands of people go missing across the country. RCMP data revealed that in 2018 alone, 42,233 children were reported missing. But in our city, activists have taken to social media to bring attention to the way that Toronto Police Services (TPS)  handles missing person cases involving children of colour. 
On Twitter, Amie Archibald-Varley, a registered nurse tweeted, "I have noticed a disturbing trend over the past few days and I hope reporters can help me find out what's happening. When @TPSOperations posts about missing kids—white individuals under 18 are considered "missing children". Racialized kids are just "missing". Look for yourself."
"Are our children not children too?" Archibald-Varley continued, adding that all children should have the same messaging.
"Any child that is missing should be identified as a CHILD. Use consistent language!" she posted.
Many people shared that they agreed with Archibald-Varley and were also concerned about the different messaging regarding children of colour.
"Can't wait until @TPSOperations states unequivocally 'this is not about race'. the adultification of Black & Indigenous children. this is intentional," tweeted one person.
"The racism is baked into policing. This can't be reform. It needs to be abolished and replaced with something kind and just, something from within the community," shared another.
Toronto Police Respond
The News You Can Use team reached out to Toronto Police to enquire about the situation and ask why posts about children of colour often leave out the word "child", while posts focused on white kids do not.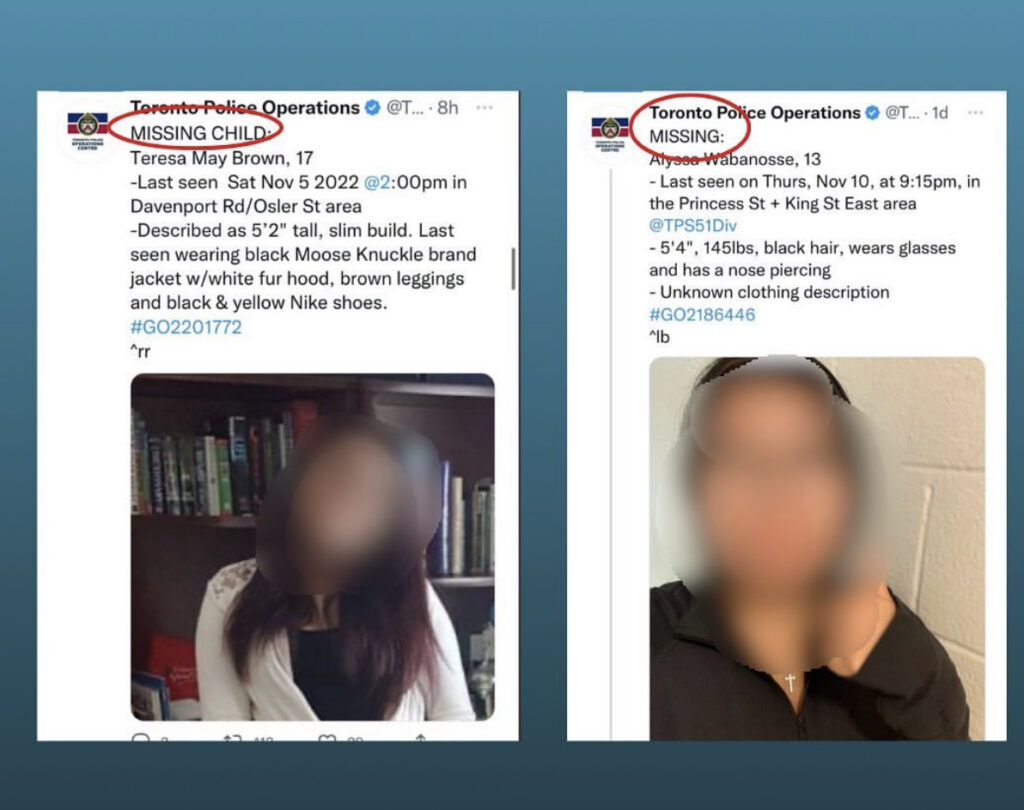 "When TPS releases information about a missing person, we publish a media release and a corresponding social media post, including on Twitter. The media release will always note if a missing person is a "boy" "girl" or "child" if they are 18 years or younger," TPS said in a statement to NYCU.
"Sometimes that information is not transferred to the social media post consistently. We are reviewing our policy on this to ensure the information in the media release and the social media post are consistent," their statement continued.
People of Toronto Respond to Activist's Message
But many people were not satisfied with that response.
"Their response is absolute BS. The proof has been presented and all I see are excuses," commented one person.
"This definitely seems like a clear reflection of how serious they take the issue when the child is from the BIPOC community. I'd like to hear what they actually plan to do to address this and change it going forward," another viewer shared.
"Officially I'm saying it; bachelor of science in criminology and community service hours w a demonstrated interest in communities of colour SHOULD BE REQUIRED TO BE A POLICE OFFICER. NOTHING LESS. university teaches critical thinking in a way that is unique, and simply taking a practical approach to problems is not the needed solution in the strange times in which we live," someone else shared, continuing on to say that police should be held to higher academic standards.
While others feel it's time for parents to take matters into their own hands.
"It's left to us to do the work. So be it! That's what the Black Panthers did. They served and protected our own because no one else would. Yes, we pay taxes, but the fact is that we CAN NOT depend on our government to serve or prioritize us. We gotta serve ourselves. Create awareness. Organize search parties for these kids. If we don't make a move, the blood is on our hands. Let's protect our kids by any means necessary. That's what community does," one person posted.
How do you feel about this? Drop your thoughts in the comments.