TORONTO – Is it time to put an end to the decades-long monopoly that has seen three companies control the wireless market in Canada? Rogers, Bell, and Telus, also known as "The Big Three" have a hold on 90% of the wireless mobile market in Canada.
The Rogers outage began on July 8th and still has some Canadians without service days later. The outage disrupted not only work days for thousands of Canadians but also disrupted 9-1-1 calls and debit machines across the country, along with other services. Instances like this highlight how dangerous the telecommunications monopoly is.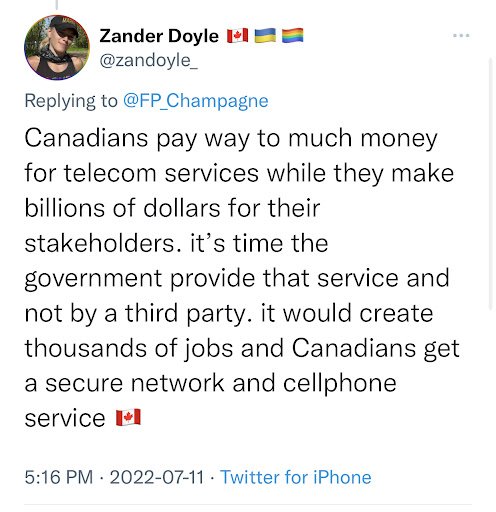 While it may appear that Canadians have a variety of different options, most other companies like Fido and Chatr are actually owned by the big three. Fido and Chatr are owned by Rogers, while Lucky and Virgin Mobile are both owned by Bell. Koodo and Public Mobile are owned by Telus.
On Monday the federal government stepped in with a solution to prevent such a crisis from happening again. Canadian Industry Minister François-Philippe Champagne ordered the telecom companies to help one another in emergencies such as the July 8th outage. He has also directed them to develop communication protocols to keep Canadians better informed in the event of another outage.
"The national outage of telecom services that millions of Canadians experienced in the last few days is unacceptable. Full stop. It affected people across the country, emergency services, small and medium size businesses and payment systems," the minister said on Twitter.
"That's why today I brought together the heads of the major telecom companies to demand they take immediate action to improve the resiliency and reliability of our networks by ensuring a formal arrangement is in place within 60 days," the minister continued in the July 11th thread, confirming that the CRTC will also begin investigating the July 8th outage.
The minister also continued on to say that Canadians deserve better service and more options.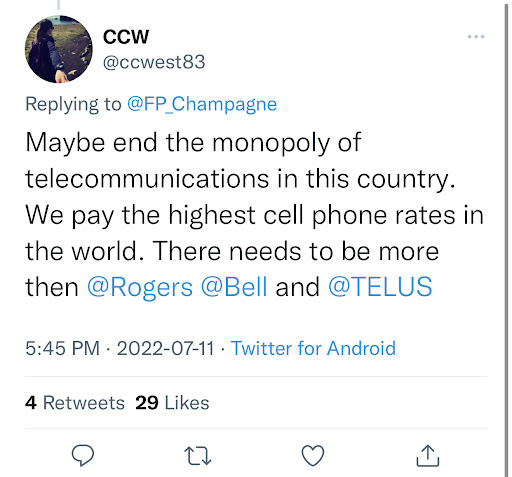 "This is just a first step. Canadians deserve more from their providers in terms of quality and reliability of service and I will ensure they meet the high standard that Canadians expect, including improving competition, innovation and affordability," Champagne said in a post.
Despite these orders from the Canadian government, many Canadians are unconvinced that this is actually a good solution to the problem. A lot of people are now calling for a diversified market with more options, saying that Canadian service providers are unreliable and the service costs are unreasonable.
A 2020 study by ReWheel Research in Finland found that around the world, the highest prices for mobile services were being charged right here in Canada. The study found Canada to have the least competitive monthly prices in the world, and Rogers, Bell & Telus claimed the top three spots for companies with the most expensive services.