Therme Canada releases new plans for Ontario Place development. Courtesy: Therme
Following a ton of public criticism over plans to develop part of Ontario Place into a private spa and waterpark, Therme Canada has released updated plans for its new development.
Therme says the development will make Ontario Place a "year-round family-friendly destination", adding that plans were created with input from the Mississaugas of the Credit First Nation (MCFN), and feedback from public meetings, community engagement and City of Toronto planning staff.
"When complete, the Ontario Place public parkland will become the largest public gathering space on Toronto's western waterfront," Therme Canada said in a statement on Tuesday.
Newly announced changes to the plans include a campus-style layout of the West Island with four more acres of public space. This space includes parks, rooftop trails and gardens, bringing the total area to almost 16 acres, including additional public park space that will extend both on top of and between Therme buildings, giving people more pathways to the waterfront.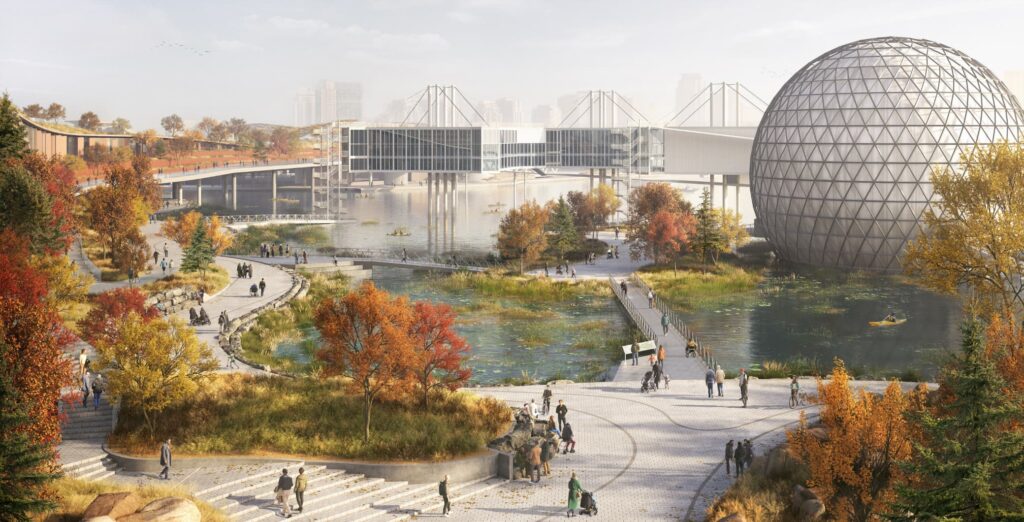 Meanwhile, the actual volume of the Therme building has been cut by 25 per cent, and instead of one big building, it will have its facilities spread out across multiple smaller buildings.
Created in collaboration with MCFN, the new design includes plans for public gathering spaces. Officials say the space will include design features celebrating "the history and heritage design of the original Ontario Place," including enhanced views of the Pods, Cinesphere, downtown skyline and Lake Ontario.
"The design that we revealed today delivers the same great waterpark and wellbeing attractions, but thanks to feedback, it has even more open parkland, more natural spaces, more public trails, and more places for people to gather," Dr. Robert Hanea, CEO & Chairman of Therme Group, said in a statement.
Hanea also shared that after this development there will be more public space available than what currently exists on the West Island.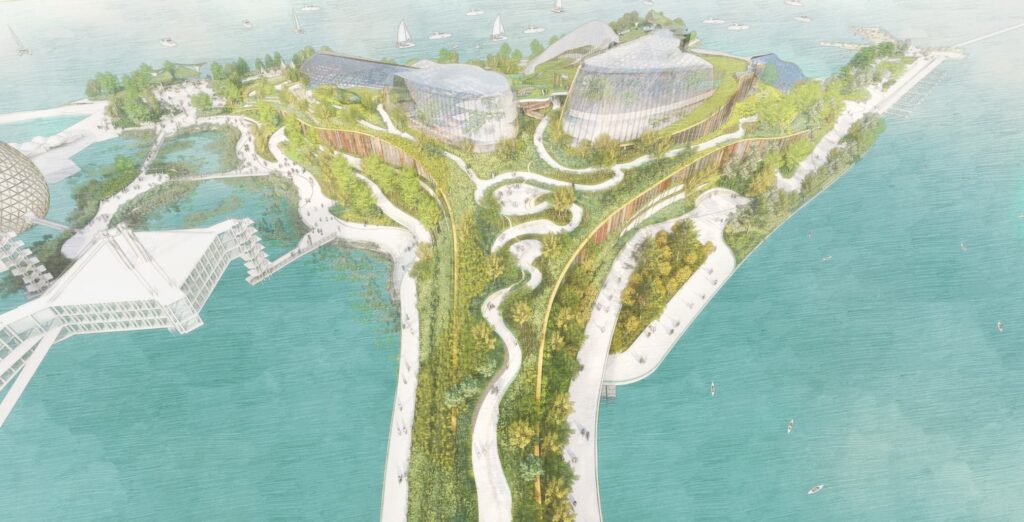 The newly released plans also include a redesign of the bridge to the West Island, making it into both a greenspace and public pathway, leading people from Lakeshore Boulevard West to the island.
"The bridge and pathway recreate the path of the Credit River, to honour its significance to MCFN, who have lived and continue to live on the north shore of Lake Ontario. This path includes a large new plaza designed in collaboration with MCFN for future programming," Therme Canada said.
In addition, pathways on the island have been widened, while additional spaces for different places to grab a bite to eat have been added.