TORONTO – Despite all four party leaders campaigning hard and heavy, and the number of issues on the line in the province, it feels like no one cared about Ontario's provincial election this year!
As the polls predicted, incumbent Premier Doug Ford was re-elected to serve the province of Ontario for another four-year term in the province's top office! The NDP were elected official opposition once again, and the Liberals managed to score only eight seats. What a night!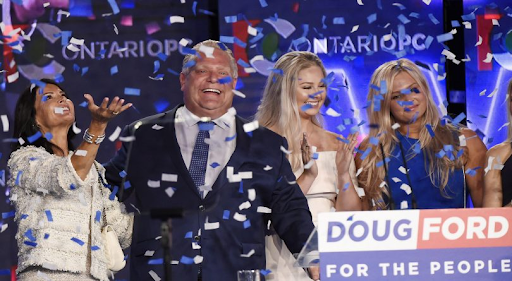 NDP Leader Andrea Horwath stepped down as leader of the provincial NDP, and Steven Del Duca also resigned as leader of the Liberal Party. Mike Schreiner stayed on to lead the Greens, and retained his seat as MPP for Guelph.
But Brandon has a hot take, Ontarians should be embarrassed by the results of this year's election! Only 43% of voters turned out to the polls.
"That's less than half, it's a record low!" Brandon exclaimed.
But he makes a good point. People are blaming voters, while voters are blaming parties for not providing them with leaders that Ontarians want to vote for! Yikes!
"I will say that I myself did predict a Ford win, but I don't believe that I predicted a Ford strong majority, I was predicting more of a minority based on the sentiment and feedback that we were hearing from people on the streets! But a lot of people out on the streets didn't go out and vote!" Brandon explained.
Brandon explains that he believes people are tired coming out of the election and are worried about how they will cope with the rising cost of living, inflation, and burnout.
"People are just politic'd out, and you know who gained from that? Mr. Doug Ford," Brandon continued.
But did mainstream media have a role to play in the Progressive Conservative win? Some people think so!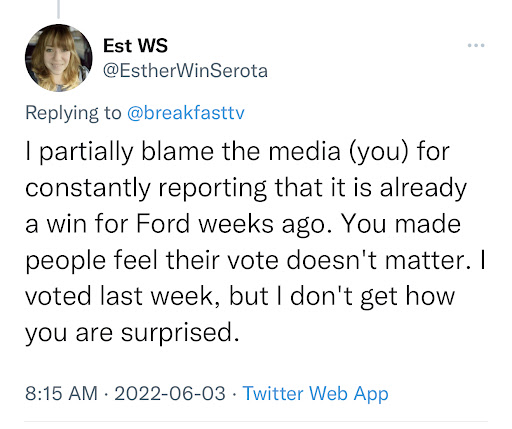 "I partially blame the media for constantly reporting that it is already a win for Ford weeks agoYou made people feel their vote didn't matter! I voted last week, but I don't get how you are surprised," said @EstherWinSerota in a response to Breakfast Television on Twitter. 
Brandon discussed other reactions to the election result and dug into why he thinks there was such a low voter turnout on this episode of News You Can Use!