TORONTO – Trevane "Tre" Sanderson is the first Black winner of Top Chef Canada! Sanderson won season 10 of the series, and now he joined The Brandon Gonez Show for a special Hennessy Conversation in the kitchen. He shared his journey from Scarborough to Top Chef while showing Brandon how to make Hennessy mango BBQ chicken wings!
Growing up in a Jamaican household, Sanderson says he always loved to cook.
"Caribbean cuisine is so great. It's very vibrant, bold, has a lot of flavour… and it's funny to me that it's always on a back burner," shared Sanderson, explaining why he believes West Indian food isn't as popular as other cuisines.
"People look at Caribbean cuisine as a take-out, or 'my grandma makes it and she makes it great' and that's good enough," said Sanderson, adding that he believes as a chef it's important to modernize Caribbean food and bring it to the forefront.
On Top Chef Canada, Tre consistently served Caribbean food, with a special twist. His dishes showed a wide range of Jamaican ingredients like ackee and saltfish, red snapper, mango, pickled onions, and pepper oil. He shared that staying true to his culture earned him a lot of respect from the judges.
"I like to put a lot of colour, so when I was presenting that for the judges it made them really respect what I was doing because I was doing something completely different," said Sanderson.
Hennessy Wings with Top Chef Tre Sanderson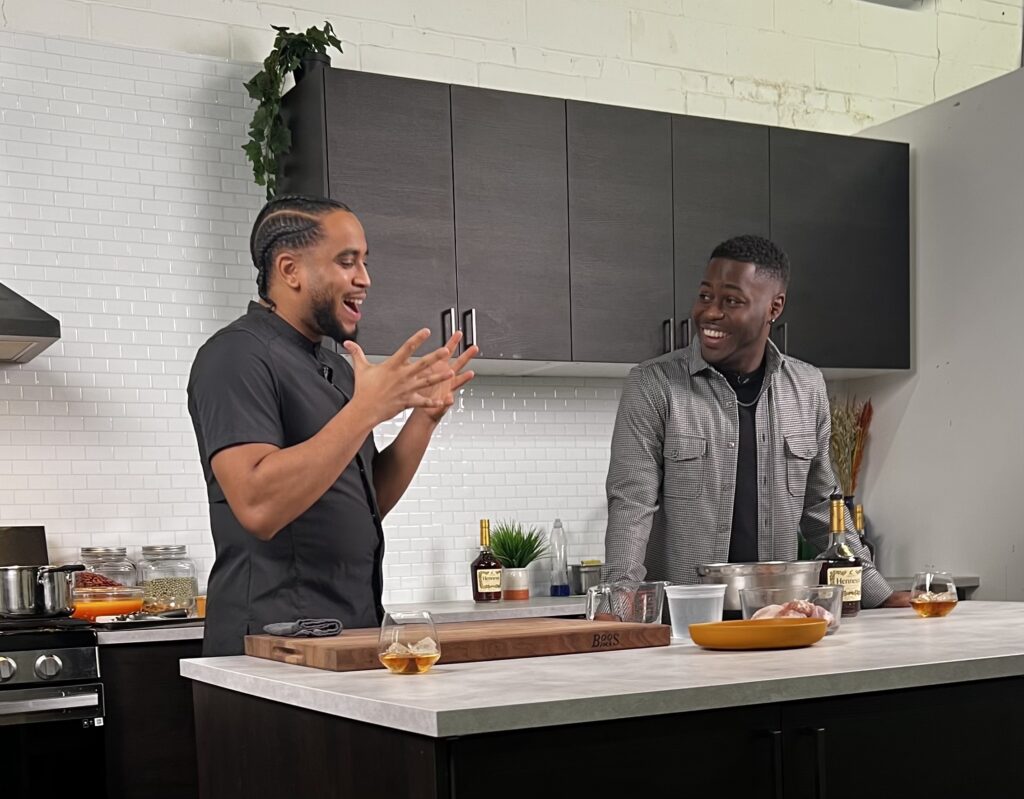 There's nothing tastier than some sauced-up wings, especially wings infused with Hennessy. Sanderson explained the process of brining, which includes soaking the meat overnight to ensure that it's marinated in flavour. Sanderson added Hennessy to both the brine and the wing sauce, getting the meat infused with all of those delicious flavours.
"This is a Hennessy brine and a Hennessy mango BBQ sauce, so we're really utilizing the great flavour that Cognac has," said Sanderson.
"You look at Hennessy and it has lots of different balances, it has spice notes, cinnamon, these are like the kind of flavours that we use in the Caribbean, so for me, it was easy to pivot and make a nice, beautiful recipe," continued Sanderson.
Brandon and Tre whisked mango juice, ketchup, dijon mustard, and Worcestershire sauce before combining it with brown sugar, cinnamon, black pepper, garlic powder, onion powder and smoke paprika to make the BBQ sauce. They then added more freshly cracked pepper and some salt, before stirring in the most important ingredient: Hennessy.
Never Stop & Never Settle
While the sauce simmered on the stove, Sanderson shared what winning Top Chef Canada means to him.
"It's definitely always been a dream of mine to open up a space, because that was the opening dream of becoming a chef. Have your own restaurant, your menu, be [the] chef of the year and all those cool accolades," Sanderson shared.
"My real goal is to really inspire people who look like me. Because when you look at me you don't think I'm a chef," the Top Chef winner continued.
Sanderson shared that growing up in a low-income family, his mother worked hard to ensure her children had opportunities.
"That was my biggest inspo, because she really pushed for us, she wanted us to do well," said Sanderson, adding that his mother moved to Canada by herself when she was only 18-years-old.
"She didn't come to Canada for us to have a regular life. She really took the risk and really tried to put on for us," he continued, adding that his mother is extremely proud.
Sanderson explained why washing your meat is not necessary, why he does not like judging other people's cooking, his cooking pet peeves, and so much more on this Hennessy Conversation. Let's leave Tre some love in the comments, and let us know, would you try Hennessy wings?