For queer people, by queer people, The Bow is a brand-new streaming platform featuring high-quality content created by 2SLGBTQ+ artists for the community. The new platform launched on August 24 and queer Canadians marked the occasion with a celebration at the iconic El Mocambo Tavern in downtown Toronto. The event featured a dance, along with a spectacular show featuring various performances and headlined by Tony, Grammy and Emmy Award-winning performer Billy Porter. 
Founders of the platform are proud to offer a means for queer youth to access free, high-quality content created with them in mind. Data shows that having this representation available and accessible to queer youth is important. According to Statistics Canada, as of 2018 youth between 15 to 24 years old made up 30 per cent of the LGBTQ2+ population in Canada.
The Bow features both original and curated programming, with six independent projects setting the scene as the app launches. Those include titles like Drag Me to Brunch, which follows queens Sofonda, Lucy Flawless & Miss Conception as they tour "North America's best drag brunches", and Balls to the Wall, which explores the "underground ballroom culture" and takes you through the history of the art.
"If most of the queer stories that have been told today are more adult, I'd say we're entering into a space where this is more directed towards youth. Not highly sexually charged, we're trying to change the narrative… We want to focus on the 95 per cent of the queer experience that we haven't really been talking about yet," Matthew McLaughlin, founder of The Bow, told Now Toronto.
"When queer youth grow up a lot of times they're in a space where they're not necessarily validated. They don't see themselves represented on screen or they don't have peers or family members around them that are able to showcase what it looks like to be in a happy, loving, queer relationship," the founder explained, adding that this is one of the reasons having a platform like The Bow is crucial for queer youth.
"I think it's time that we show people there's absolutely nothing to be ashamed of when it comes to your queer identity, especially for queer youth. We want to be able to allow youth to grow up never having to unlearn all the biases instilled against them by the previous generation."
"The idea is to combine queer content, new queer content, original queer content, created by queer artists, for queer people. It's a beautiful idea," Billy Porter, the platform's Diversity, Equity and Inclusion Advisor, told Now Toronto.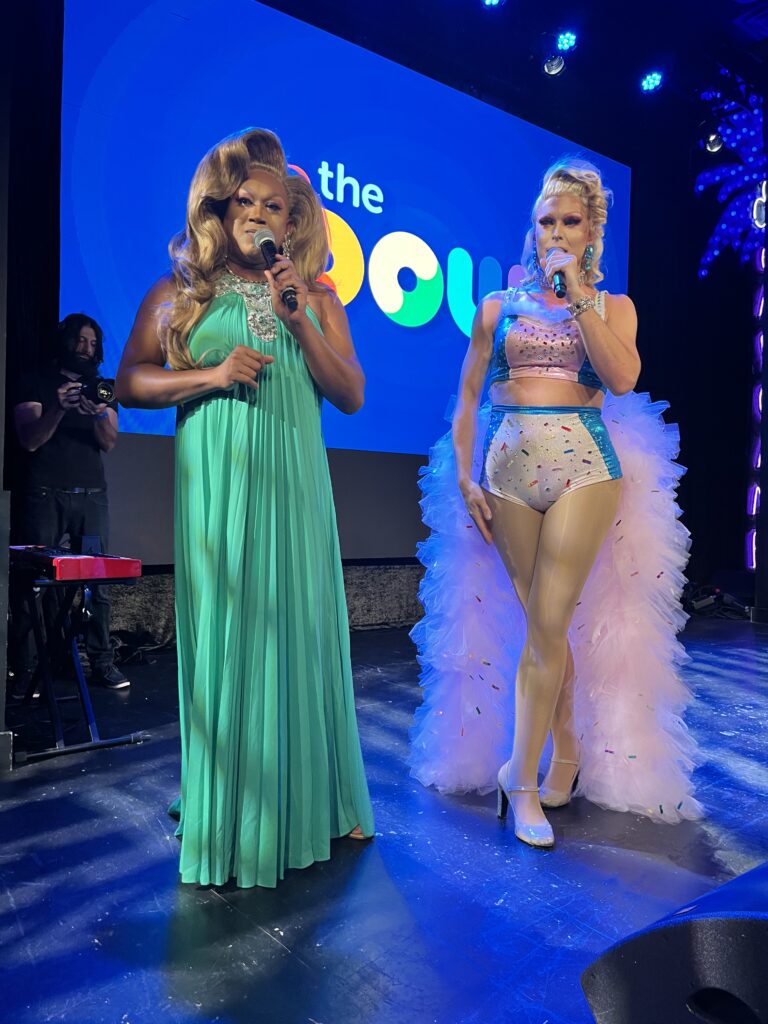 Porter is also a champion of having this content free and accessible, so all members of the 2SLGBTQ+ community can see themselves represented.
"When I was doing Pose, Pose was for my community. It was behind a paywall, so when it first aired the people we made it for couldn't even watch it."
He's also excited that the platform gives advertisers the opportunity to support queer content creators 365 days a year, not just during pride.
"I'm Black 365 days a year, I'm queer 365 days a year," Porter shared, adding that having corporations only support queer communities during Pride month isn't cutting it anymore.
"What we're missing right now in that market is how do we get these major corporations to really engage fully. Not just a month, but to engage and help all year round," Porter said denouncing rainbow capitalism.
READ MORE: Exploring rainbow capitalism & some of the Toronto businesses doing the work all year long
"I'm excited to be at the beginning of something that I truly feel is transformative in the world."
Porter shared that it was important for him to be a face of Black, queer representation for youth, because he did not have something similar during his formative years.
"It was horrible. There was nothing that looked like me and it took a lot of effort for me to find my tribe, find my chosen family, find a space where I could take up space and be confident and courageous enough to take up space and say here I am, just as I am, period."
PORTER SHARES THOUGHTS ON ONGOING HOLLYWOOD STRIKE
Porter also took a moment to share his thoughts on the ongoing SAG-AFTRA strike that has halted the production of many movies and TV shows.
"I've been remaining quiet because all I have is rage and venom and bile," Porter told Maurie Sherman ofThe Roz and Mocha Show on KISS 92.5.
"We are fighting for a living wage, period. But the truth of the matter is the gatekeepers, who will not even come to the table, the Bob Igers of the world who make $78,000 a day, are telling us that our demand for a living wage is unrealistic," Porter continued, adding that he receives six cent cheques despite having "won that company an Emmy."
"They've created a plantation, we go out and we do all the work and they rake in all the money. Enough of that, I'm done with that."