Discussion on Black Motherhood Happening February 3, Photo: Canva
TORONTO – Studies show that Black women often experience health-care services differently than white women.
While there is a lack of data on Black maternal health, a study from the United States Center for Disease Control and Prevention found that there are significant racial disparities in pregnancy-related deaths. The study found that Black women are three times as likely as their white counterparts to die due to pregnancy-related complications.
Several governments around the world are working to address the lower quality of care received by expectant Black mothers, including in the U.S. and the U.K..
"The Transformative Power of Birth" is an event happening on February 3rd, aiming to create a space for BIPOC (Black Indigenous People of Colour) mothers to celebrate motherhood, and recognize the "unique journey of racialized maternal health care."
The night will be hosted by Black Moms Connection founder Tanya Hayles and will feature guest speaker Shan Boodram. Hailing from Toronto, Boodram is a certified sexologist, author, and mother, and will join Hayles for a discussion about motherhood and parenting.
"Attendees will enjoy an engaging and open discussion about motherhood and parenting — the journey to it, through it, and following it," reads a release.
"This special event aims to educate, inspire dialogue, and create opportunities for networking and change within the Canadian maternal health system," it continues.
Photographer Honouring Black Motherhood
The night will also feature a showcase of work from photographer Solana Cain. Cain's exhibit, called Honouring Black Motherhood, is a continuation of her documentary work which focuses on empowering Black mothers.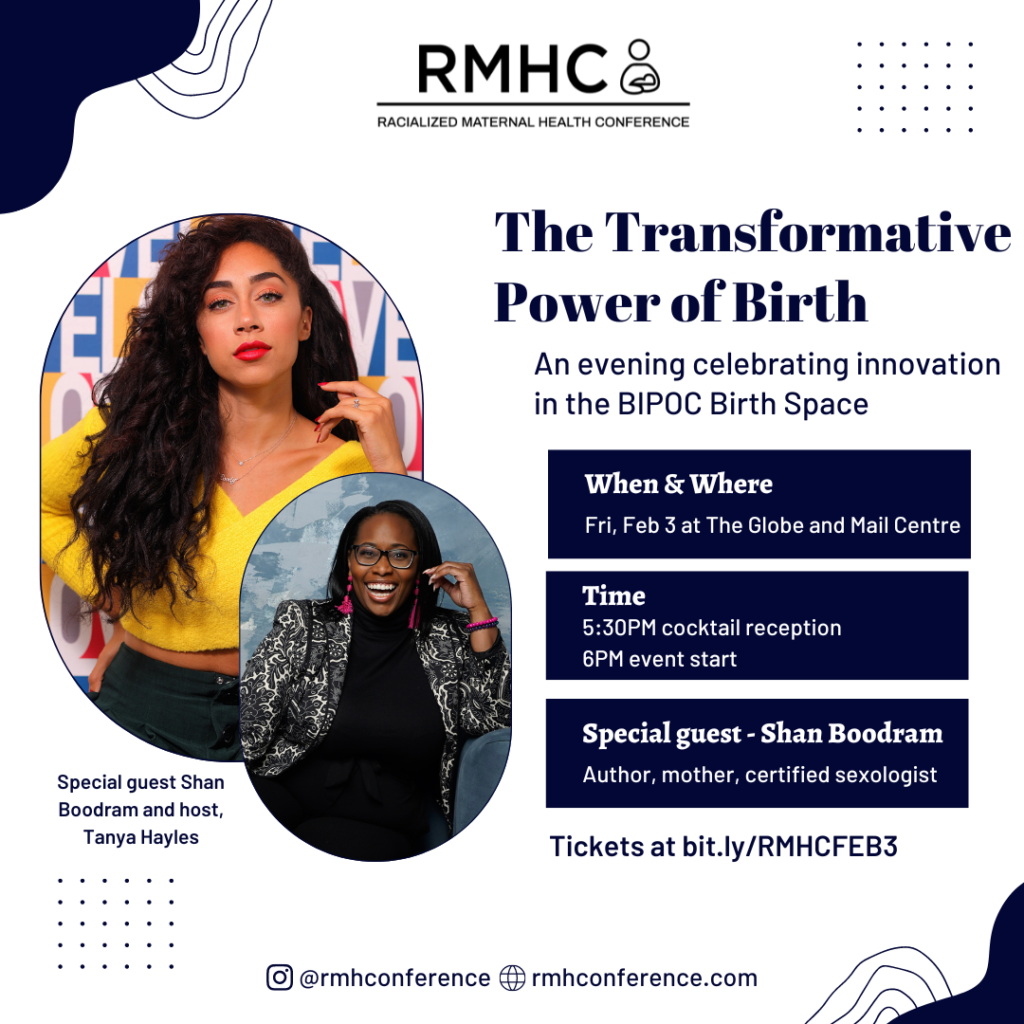 "For this photo series, Solana worked collaboratively with mothers, documenting them while they shared one of their favourite activities to do with their infant. Solana strives to record the intimacy and joy along with strength and resiliency that Black mothers possess."
The event kicks off at 5:30 p.m. at The Globe and Mail Centre in Toronto and is being held in conjunction with the annual Racialized Maternal Health Conference. Find out more and pick up tickets here!