The sun was shining while a mixture of laughter and music filled the air during Lavender Wild Festival at Toronto's Echo Beach. The day-long festival went down on June 4, and was packed with performances from local and international queer performing artists, displays by visual artists, and various vendors. With artists covering everything from pop music to drag performances, the festival saw Torontonians turning out in droves to kick off a month of Pride events.
By queer people, for queer people, Lavender Wild was founded by Live Nation Canada's festival manager Alex Simpson, whose goal was to amplify marginalized voices while creating an inclusive space for the 2SLGBTQ+ community to enjoy performances and create connections.
"Of all the shades of purple, lavender is most associated with the 2SLGBTQ+ community, a historical symbol of resistance and empowerment," reads a release from Live Nation Canada.
A portion of ticket sales was donated to The Get Real Movement, a Canadian charity that works to combat discrimination against the 2SLGBTQ+ community in both workplaces and schools.
The lineup was impressive, with the festival headlined by Norwegian artist Girl in Red. Other acts who hit the stage included Hayley Kiyoko, Daya, The Aces, Kaleena Zanders, and Toronto's very own Marissa Daddy. We had a chance to catch up with some of the performers, and festival attendees,  to discuss what the inaugural queer festival means to them.
Lavender Wild: The Importance of Queer Spaces
Those who attended the festival said they felt the event created a space for them to truly be themselves.
"As a new out and proud lesbian it's so nice to be around the community and feel so safe here," shared Kay.
"To me this festival means feeling free, being who I am and not being scared," said Gabrielle.
"This festival means that I can be truly myself in an open space with no judgment, just love and happiness," explained Taylor.
Many performers shared similar sentiments.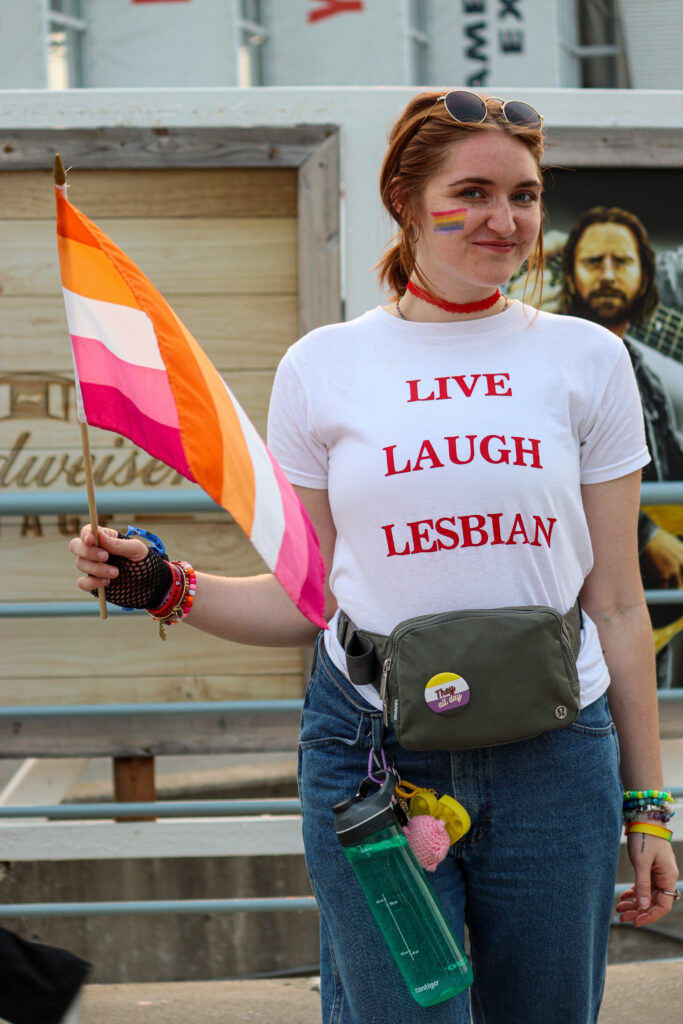 "As a band where three out of four of us identify as lesbian, there aren't many festivals like this, if any. I think this is the first one we've ever played that has predominantly queer women as the entire lineup," said Cristal Ramirez of the band The Aces.
"There aren't that many of them and ultimately community is the thing that saves lives and brings people joy and happiness. So the more community that you can bring to a community like ours, it's really important because it's not always available to queer people. Community is often something queer people have to seek out," added her sister and bandmate, Aliza Ramirez.
"Queer women run music and they run entertainment. If queer women like it, it's going to be the next big thing honestly."
"I think it's important. I know a lot of the time as queer people we want to go to certain things like this, like big huge festivals. But it's always a matter of safety and trying to feel safe while also celebrating yourself. So I think it's important for us to have a space to do this and to feel like our safety is number one, because it's put on by queer people, for queer people," Toronto drag king Manny Dingo told Now Toronto.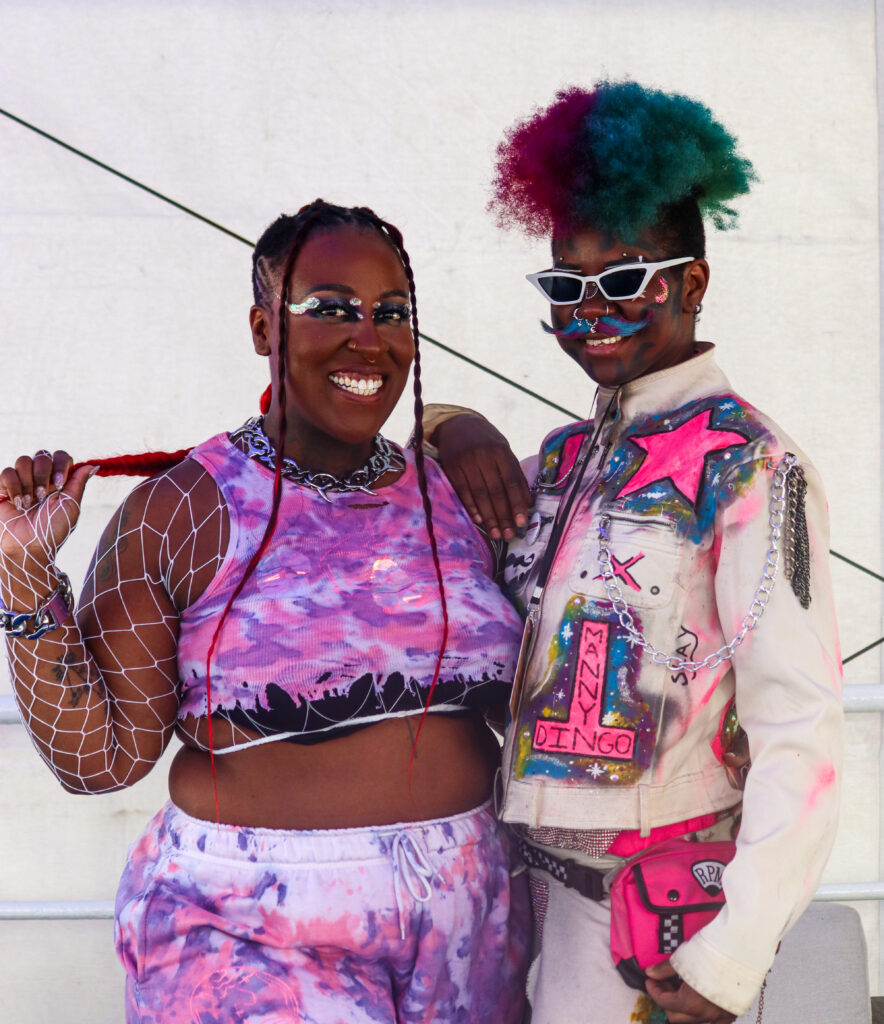 "The stage that we were on was predominantly trans and non-binary folks too, so that felt extra special too. I got little goosebumps announcing each person," said Toronto DJ and drag king Marisa Daddy.
"It's beautiful to be able to share a space with them and to know that they have these spaces," Marisa shared, explaining that having spaces like this would have been revolutionary in their own journey. 
"Being able to be part of a festival that does that for some people is out of this world is amazing."
Meanwhile, Manny explained that his first experience of being out and queer in a community space was when he attended Halifax Pride at the age of 16 or 17.
"It was just an overwhelming experience to see people that were experiencing life the same way I am, while also opening my eyes to ways that I could see myself differently, while also seeing people that looked like me. That was really incredible and I hope that the young folks here get to have that experience."
Jade Lemac explained that it felt amazing to perform in front of an audience that can connect to her experiences as a queer woman.
"It feels amazing to be representative of this community and to be up there and it's just like a family out there and I love it," Lemac shared, explaining that performing at a queer music festival allowed her to feel like her audience could relate to her story.
"At a festival like this where it's LGBTQI+ based, it's a lot more welcoming because just talking to other people, I hear they have similar stories to me and can relate to me," Lemac continued.
"It feels very liberating in a lot of ways. I was quite shy growing up with my queerness, being a lesbian, like really reserved," shared artist Kaleena Zanders, adding that she's noticed younger generations are more freely sharing their identities.
"It's really beautiful to see everyone holding hands and being free and gay and queer. It feels really liberating."
"It feels more powerful than ever. For instance, on my Instagram, I posted about Pride and I was telling people that now more than ever it's time to support the LGBTQI+ community and I had never said that before because I had never felt that urgency or the intensity of the fight that we're going through right now," Zanders shared, explaining that having queer-focused events and spaces feels more important than ever before.
"Society has told us that we aren't important, or that we're gross, or we shouldn't exist. So it's important for us to feel safe. It's so funny too because it's like all we want to do is have a good time. I've noticed queer people are just trying to celebrate all the time and I don't know why people hate us."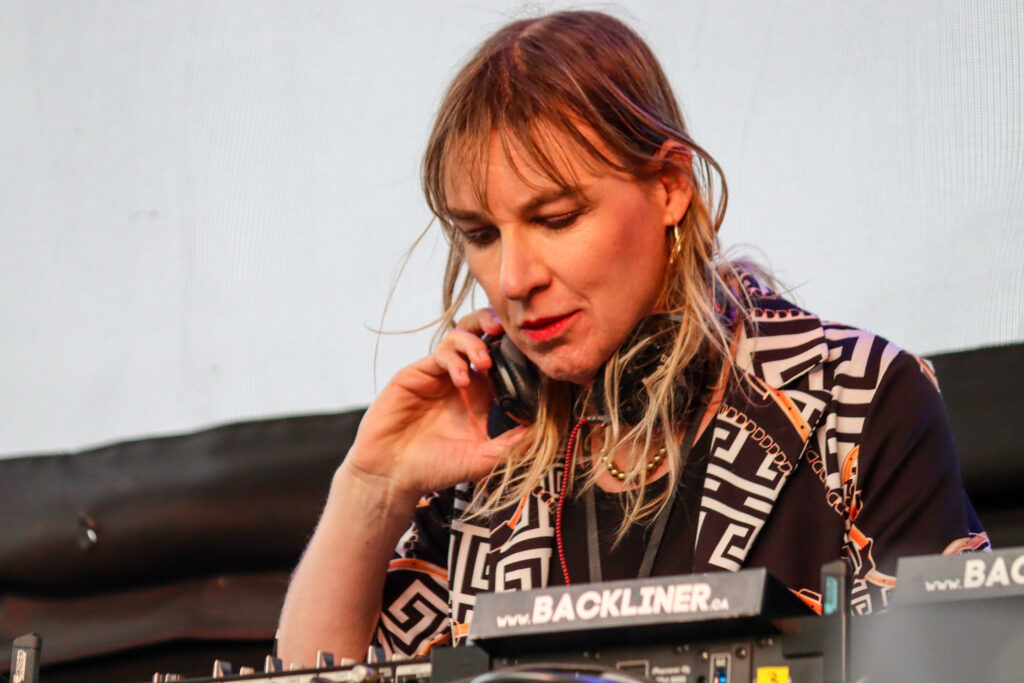 Mz. Worthy shared that it felt powerful to perform at an event geared toward the queer community.
"I'm trans and I've been transitioning for three years. So it feels really awesome and welcoming to be with this group of other queer women," she shared. 
"I just think bringing a bunch of queer people together just gives everybody such a semblance of power. Sometimes it can be tough being queer," Worthy continued, adding that queer spaces make it easier for members of the community to be themselves.
"The spirit of being here and it being an all-queer lineup is really, really cool and it felt exciting to be a part of that," said artist Daya, one of the many artists who traveled north from the U.S.A. to join the Lavender Wild lineup. She shared that it feels more important now than ever before to create safe queer spaces.
"With what's happening in the U.S. and also in the world I just feel like there is just really awful legislation constantly being passed and really hateful rhetoric going around from powerful people and I just feel like it's important that we're there for each other and know that there is power in numbers."
"I have a lot of faith in the queer community because it always stems from a place of acceptance and love. I just feel like that will always overpower everything else."