Shelved highlights Toronto's Parkdale neighbourhood, Photo: Shelved, CTV
TORONTO — A new TV show is highlighting Toronto's Parkdale community and the importance of local libraries. Created by The Office writer Anthony Q. Farrell, Shelved takes place in an underfunded library, home to an eclectic group of staff and colourful patrons who rely on the library for a variety of reasons. We caught up with Farrell, and star of the show Lyndie Greenwood, to learn more about the Parkdale-based series, premiering this evening. 
Workplace comedy Shelved is set in Jameson Library, based on the real-life library in Toronto's Parkdale community. Greenwood's character Wendy Yarmouth is constantly fighting against red tape, underfunding, and a lack of resources in order to give back to the community.
Farrell explained that fans of The Office, Parks and Rec[creation], Abbott Elementary, and Cheers will also enjoy Shelved.
"Any time you have a workplace comedy it's going to connect somehow to shows like The Office, even Mary Tyler Moore… the reason why people do shows in workplaces is because they're familiar," Farrell said, adding that it makes it easy for people to connect to.
Calling it a love letter to libraries, Farrell consulted with local librarians, organizations, and community members to ensure that the show was authentic to Parkdale. He shared that everyone he has spoken to has some type of warm connection with libraries, explaining that they foster a human connection, which is an important theme of the new series.
"I feel like the show will leave you in a better place after you've watched it than before you started watching it," Farrell explained, adding that he feels libraries embody the concept of "putting more good into the world".
"People can go to a library. They can sit there, they're not asked for anything, they're given things, they're given resources, and the show is kind of like a love letter to libraries and those public services."
Shelved: A Love Letter to Libraries, and Parkdale
"We actually shot on location in Parkdale for a couple of days to make sure that the authenticity is there," said Farrell, adding that it was nice to highlight a part of Toronto that does not often get its time to shine.
"It's one of those parts of Toronto where a lot of people who are new to the country will start there, and after they've been in Canada for a few years they'll move to different places and then a whole new bunch of people will come in. So Parkdale has changed and rearranged in so many different ways in the last 50-60 years, but we're trying to make it authentic to what it was over the last year or two while we were shooting it," said Farrell.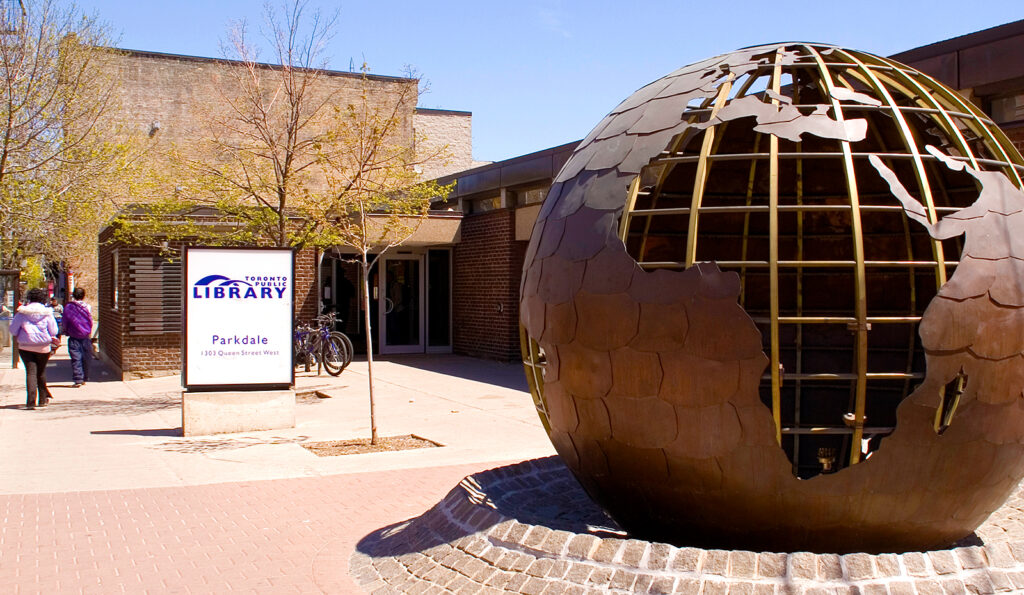 Farrell shared that in reality and on screen, many different people work at the library, and an even wider variety use their services. This is something that those working on the show did not shy away from.
"We have a lot of stories about service, about what it means to be a community leader, what it means to bring people together, and what it means to have a space that is open for everyone. What inclusivity, what real inclusivity looks like," said Farrell.
With the series touching on topics like cancel culture, Farrell explained that there are a variety of views and angles covered in each story through the lens of different characters. Lyndie Greenwood's character Wendy is one of them.
"It's interesting to play a character who has to make lemonade out of lemons a lot," Greenwood said, explaining that her character is the "momma bird" of the show.
"It's almost a place that's really hard to define," Greenwood shared, adding that it almost takes a whole series to explore the Parkdale community.
Shelved: Why Writers Chose Parkdale
Explaining why they chose to have the series set in Parkdale, Farrell said that he feels Parkdale really represents the multicultural nature of the City of Toronto.
"Setting in Parkdale makes it feel natural and not forced when you have diverse characters and diverse people in the show. It doesn't feel like you're trying to put someone where they don't belong."
Shelved premieres Monday, March 6 on CTV at 9:30 p.m. ET. Let us know in the comments, is there another Toronto neighbourhood you'd like to have highlighted on TV?