TORONTO – This past weekend was full of festivals throughout the Greater Toronto Area, and some of them got MESSY! At two specific events, people were suffering out in the heat, coping with delayed start times, and facing a last-minute venue change after paying top dollar to see big artists perform in Toronto. 
Kultureland
Kultureland music festival was set to take place at the Markham Fairgrounds on Saturday and Sunday, with major headliners including Burna Boy and Jhene Aiko. However, just before the second day was due to start, ticketholders received notice that the venue had been changed to a location in Ajax and the show began two hours after its scheduled start time.
Meantime, people who were located in the VIP section were distraught about the distance between themselves and the stage, and festival goers were concerned for their safety after people rushed through the barriers. 
The festival then saw several different artists that were set to perform pull out of the lineup without notice, including Fireboy and Kamo Mphela, as well as headliner Jhene Aiko herself. 
"After 11 hours. A whole venue change to another city. Several time changes. Half the artists dropping out. 0 headliners performing yet. 0 accountability from the organizers. #Kultureland better be giving refunds," tweeted out one woman, along with a photo of the empty stage. 
Kingston Music Festival
Meanwhile, over at Downsview Park, dancehall fans gathered for Kingston Music Festival on Sunday. The event had an impressive lineup, with Popcaan, Shenseea and Skillibeng set to take the stage, but then things took a disappointing turn as issues with the sound system meant that many people couldn't even hear the performances.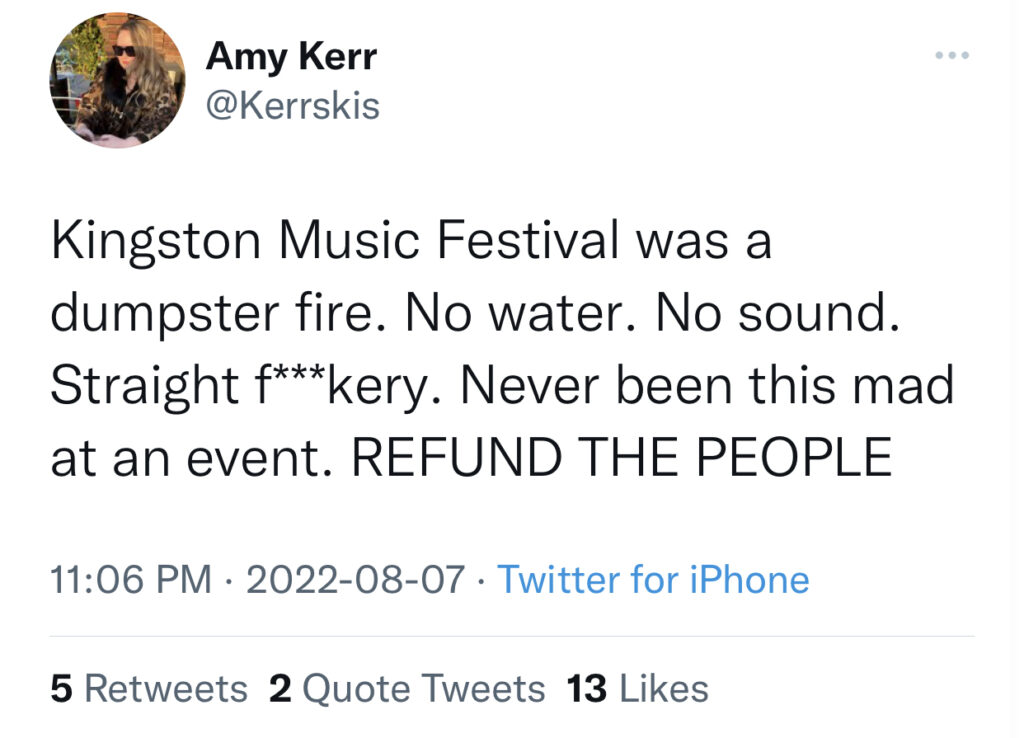 Festival-goers then shared their scary experiences at the show, with video footage showing attendees breaking through the barriers. People also shared that they noticed a significant lack of security at the event.
"Kingston Music Festival was a dumpster fire. No water. No sound. Straight f***kery. Never been this mad at an event. REFUND THE PEOPLE," wrote one person on Twitter.
"Yep pure madness at the Kingston music festival. Hundreds broke down the fence and there is no water and no beer and 3 hours of lineup for food," said someone else.
Following the fiascos, attendees of both events are demanding ticket refunds. Tickets for both festivals weren't cheap either, with general admission tickets starting around and VIP tickets going for hundreds of dollars. At Kingston Music Festival Popcaan even took to social media to tell organizers to give people their money back.
People online are comparing the festival to several infamous festivals, including Fyre Fest and 1999 Woodstock.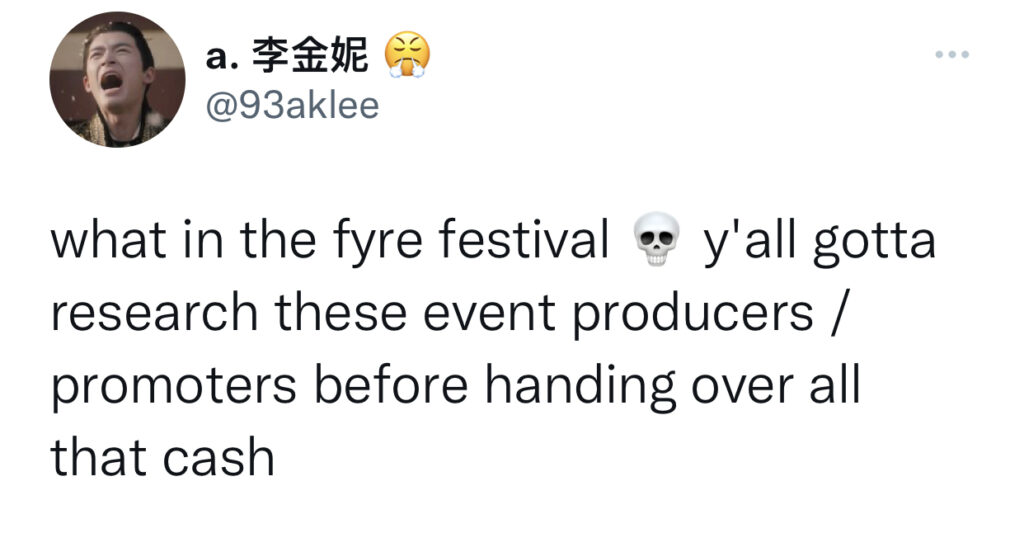 "what in the fyre festival. y'all gotta research these event producers / promoters before handing over all that cash," tweeted one person.
The Brandon Gonez Show reached out to organizers for both Kingston Music Festival and Kultureland and did not receive a response.